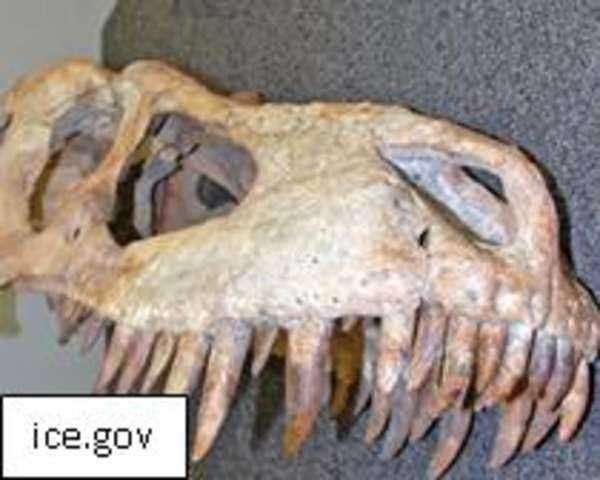 The Smithsonian's National Museum of Natural History has amassed an incredible collection of fossils, but one of the most iconic dinosaurs in the world wasn't there. Now, under a loan agreement from the U.S. Army Corps of Engineers, the Smithsonian will have a Tyrannosaurus Rex of its very own.
The National Museum of National History is scheduled to re-open its Dinosaur Hall in 2019, and just revealed that its centerpiece will be the Wankel T-Rex, a nearly complete skeleton that has until now been housed at the Museum of the Rockies in Bozeman, Montana. The Wankel skeleton is named for rancher Kathy Wankel, who discovered the first bones of the fossil in 1988 on federal land in eastern Montana. After a two-year process of uncovering and removing the skeleton, it was loaned to Montana State University, where the Museum of the Rockies is located.
Under the terms of the lease agreement, the U.S. Army Corps of Engineers, which has owned the fossilized skeleton since its discovery, will loan the Wankel T-Rex to the National Museum for 50 years. The Museum of the Rockies will obtain another almost complete T-Rex skeleton to replace the Wankel T-Rex in its collection.
Because the museum won't be opening the new dinosaur exhibit for another five years, curators say that portions of the T-Rex skeleton will be displayed in various places in the museum during the planned renovation.
The Smithsonian says that once the T-Rex fossil is on display, it will become the most widely viewed Tyrannosaurus in the world, with over 7 million annual visitors coming to see it. Today, the museum has plaster and plastic reproductions of T-Rex skeletons, but does not have any actual fossilized remains. With the addition of the Wankel skeleton, they will now have a T-Rex that is between 80 and 85 percent complete.
In order to transport the fossil across the United States, a special shock-absorbing truck trailer will be used. The fossil is scheduled to arrive at the Smithsonian on National Fossil Day—October 16. In 2014, the museum plans to host a temporary exhibit to welcome the T-Rex skeleton, and has sent archaeological crews to North Dakota who will work to gather other fossils of creatures and even plants that lived in the same era as the dinosaur.
Tyrannosaurus skeletons have been found primarily in Canada and the Great Plains region of the United States. The Tyrannosaurus lived approximately 65 million years ago, when those regions were substantially warmer.
Comments
comments